Beth Meadows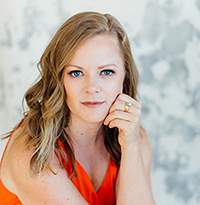 ARTIST STATEMENT
Inspired by a passion for materials and a growing fascination with the fashion industry, my recent work mostly features supermodels adorned in recycled food packaging. Treating the grocery store like an art store, I use unconventional and accessible materials to talk about the inaccessibility and wastefulness of the fashion industry, and my mixed emotions- adoration, pleasure, disappointment, fascination- with it.
Beth Meadows is a mixed media artist living and working in Knoxville,Tennessee. She graduated from the University of Tennessee with a BFA in Studio Art in 2007.
Beth has been a part of over 100 art related events, such as First Friday exhibitions, in Knoxville and has helped found and direct two artist studio spaces near downtown- 17th Street Studios and The Salvage Shop Studios. She shows her artwork regionally and has collectors across the country.
To learn more about my artwork, please visit bethmeadows.com, write to beth@bethmeadows.com, or find me on Instagram @bethmeadowsart.
Sorry, nothing here