Shannon Johnson
Show Filters
Hide Filters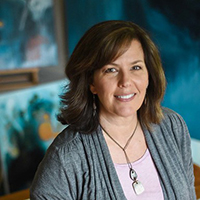 ABOUT ME
I am a Knoxville, TN based mixed media painter. I received my degree in art from the University of Tennessee. Originally from Santa Monica, CA, I spent most of my childhood exploring the coastline and surrounding hills and mountains of southern California with my camera or sketchbook in hand. When I wasn't outside I spent many happy hours alone in my room drawing and painting. Not much has changed except now I have a studio and I traded the California coast and hills for the Smoky Mountains, a husband, three kids and a granddaughter. Nice trade.
ABOUT THE ART
Nature is my biggest inspiration. The organic shapes, textures and colors have always given me peace and filled me with wonder. My art is a balance between allowing the medium to do what it naturally does with gentle guidance and self-expression. It is a meditative process and a balance between harmony and contrast, simplicity and accumulation, and stillness and motion. In my work I want to evoke the sense of peace and harmony I experience in nature. I hope my art has a calming influence on whoever sees it.
Thank you for stopping by.